Regular price
Sale price
₹ 4,499.00
Unit price
per
Sale
Sold out
(Cash on Delivery is also available)
Nari Jeevan Jyoti is an Ayurvedic product made from natural herbs and ingredients that regularize menstruation, relieve menstrual pain, increase fertility and ensure overall health for women of all ages. It is a special product formed by the precise combination of many extracts from natural herbs.
DESCRIPTION

Nari Jeevan Jyoti is a special product formed by the precise combination of many extracts from natural herbs. It relieves many deficiencies and in particular cures many diseases of women. It is 100% Ayurvedic and natural. It has no side effects of using and produces the expected results. It is an ultimate herbal remedy that maintains normal levels of hormones in the body, keeps blood pressure at a healthy level, regulates periods, controls heavy bleeding, and relieves completely from pain so that women can feel free to move and move at the time of the monthly cycle.

This medicine is an achievement in the field of Ayurvedic medicine. It relieves all types of pain such as stomach and back pain experienced by women at the time of menstruation. Due to severe pain, many women are unable to perform their regular household chores as well as their regular jobs and professional duties. Now this medicine comes as a boon for women, which makes them completely pain free and thus relieves mental stress.

Name: Nari Jeevan Jyoti
Product Form: Capsule
Quantity: 1 bottles in one package
BENEFITS

Balances Hormones

Helps in Managing PCOD

Prevents Infertility

100% herbal product

No side effects
HOW TO USE

As directed by the physician
INGREDIENTS

Ashok (extract) Saraca indica, Lodhra (extract) Symptoms racemosa, Baheda Terminalia Belerica, Salai Guggal (extract), Boswellia serrata, Nirgundi (extract), Vitex negundo Vitiate (extract), Ficus Benghalensis Udumbara (extract) Ficus glomerata, Punarnava (extract) Boerhavia diffusa, Harad Terminalia chebula, Amla Emblica officinalis, Shatavari (extract) Asparagus racemosus, Aloe Vera (extract) Aloe barbadensis, Khurasani ajwain Hyoscyamus Niger
The results of Nari Jeevan Jyoti may vary from person to person, depending on their age, lifestyle and condition.
View full details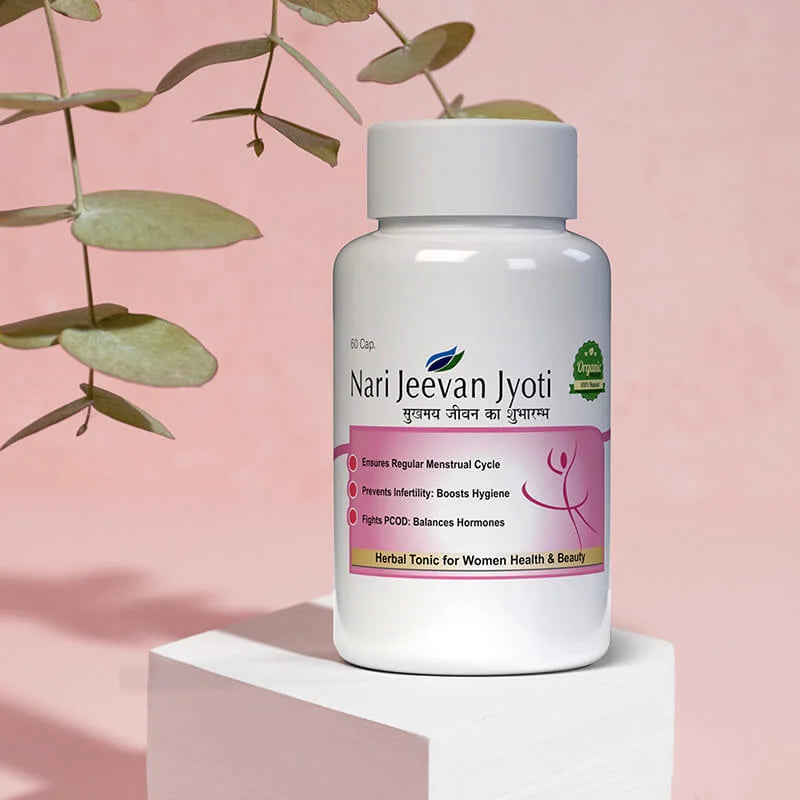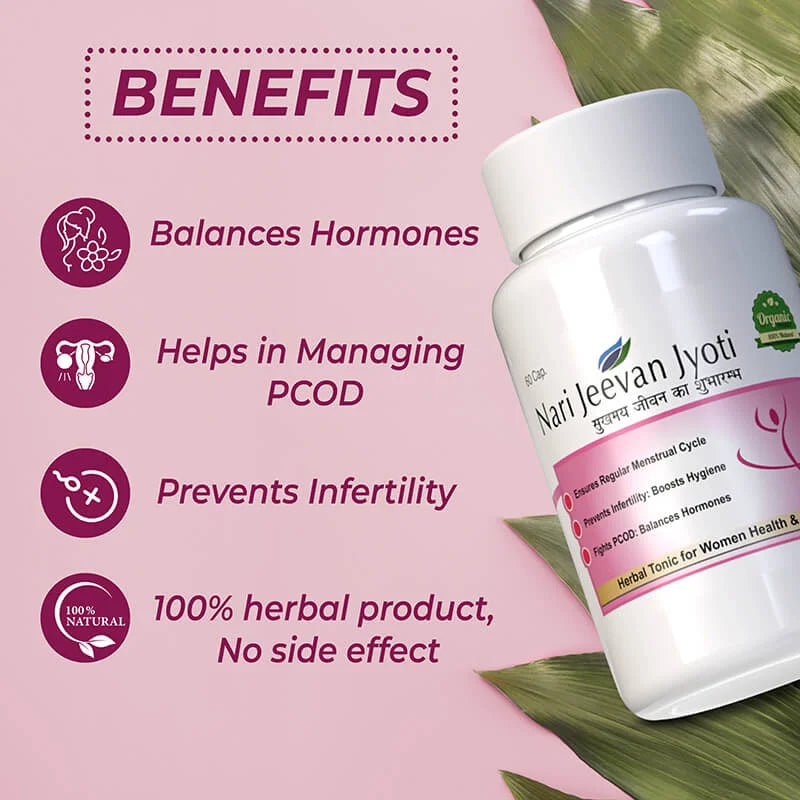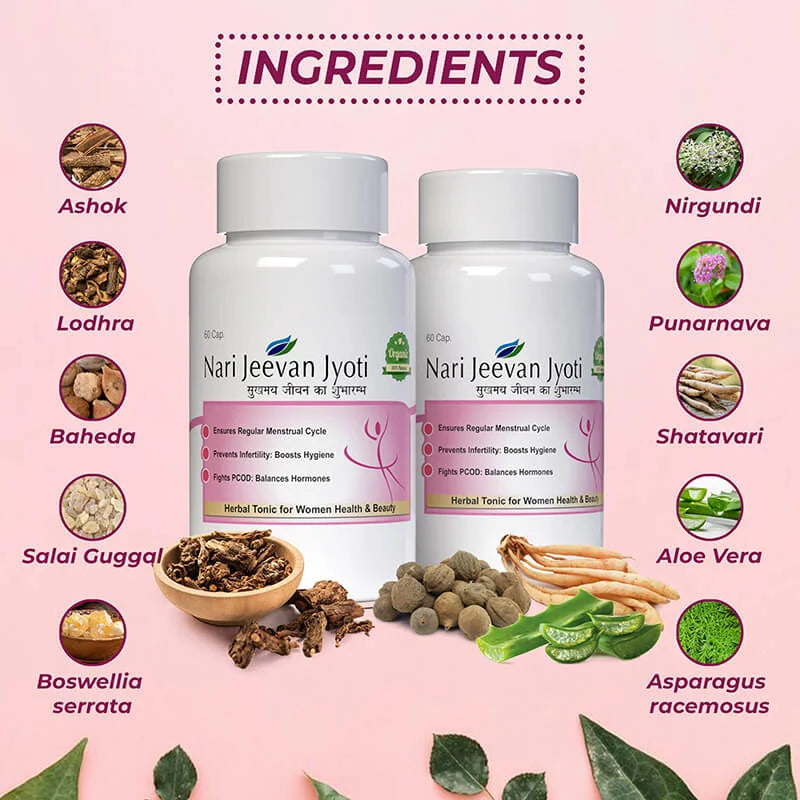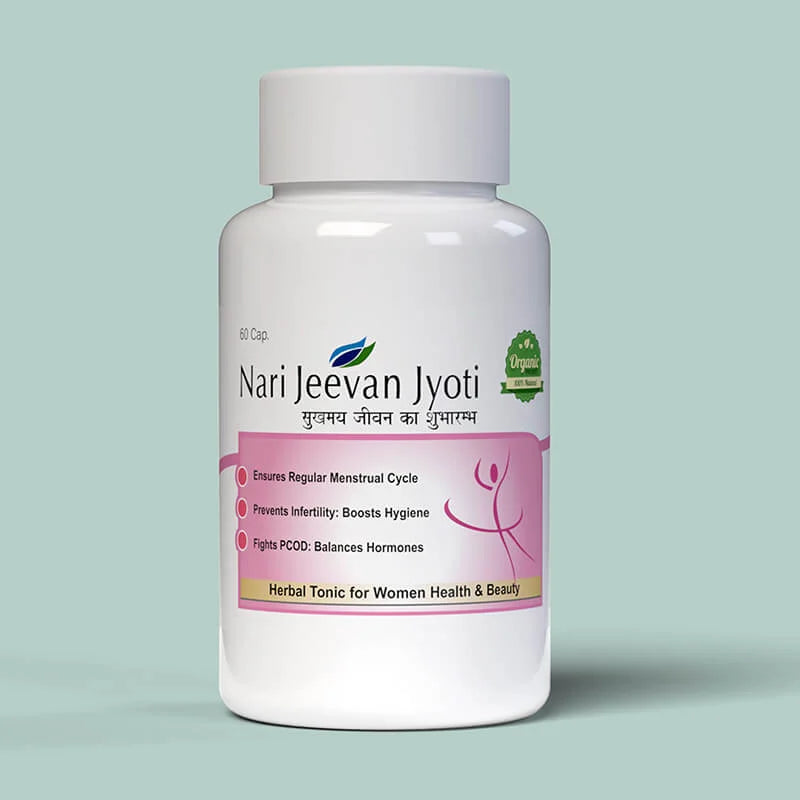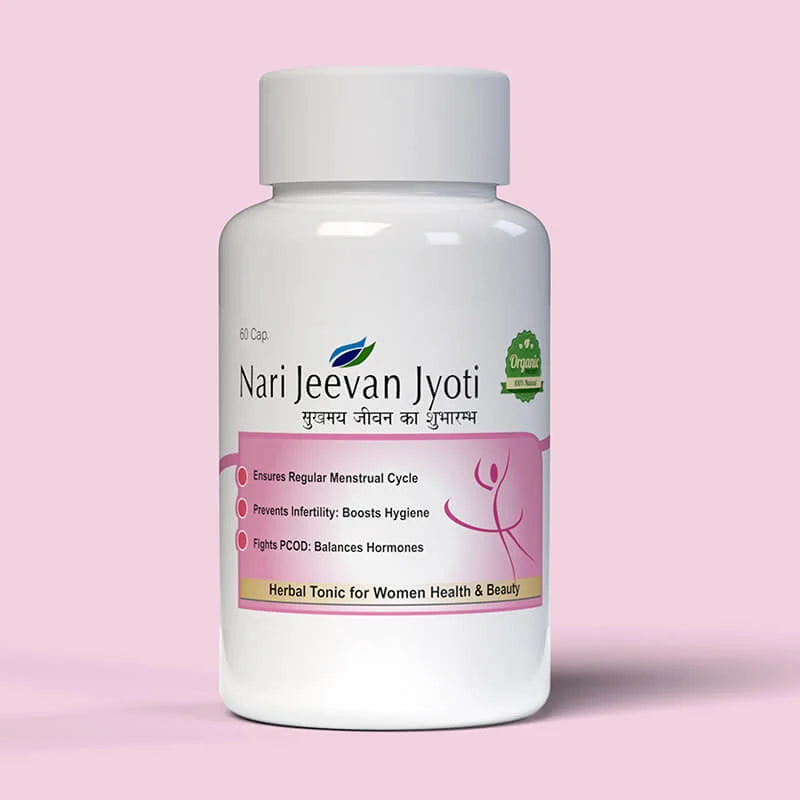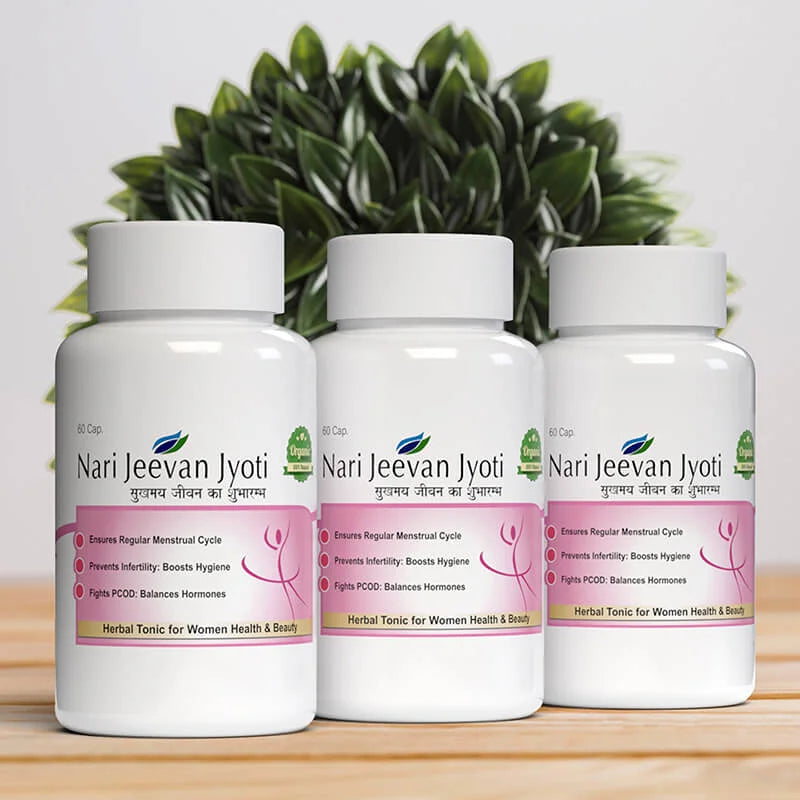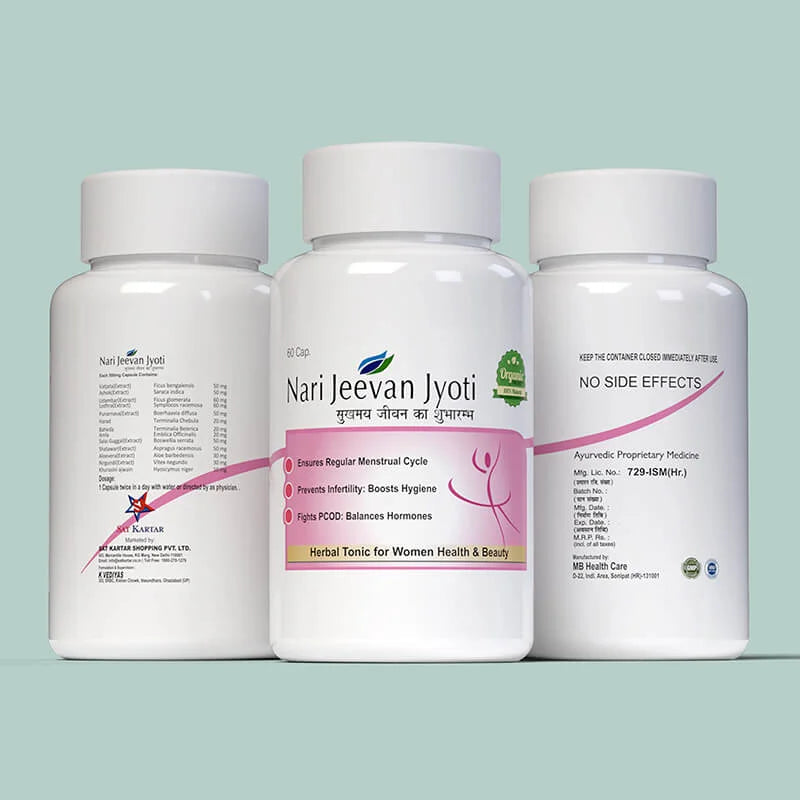 Infertility Treatment for Women in Ayurveda
Why SKinRange ?
HEALTH OUTCOMES

Ayurvedic solutions delivered thoughtfully

BESPOKE AYURVEDA

Programs crafted by Ayurvedacharayas

REAL ASSISTANCE

Ayurvedic Health Experts

NATURAL INGREDIENTS

Carefully handpicked and sourced
FAQ'S
What is Nari Jeevan Jyoti?

Made from 12+ natural herbs, Nari Jeevan Jyoti is a 100% Ayurvedic product specially designed for women. It effectively regulates menstruation, reduces menstrual pain and enhances overall health. This herbal remedy is a breakthrough, maintains hormone levels, manages PCOS and prevents infertility. Without any side effects, it provides relief from menstrual discomfort, helping women to perform daily tasks without any hindrance. This easy-to-use solution balances hormones, ensuring a healthy and pain-free menstrual cycle.
What Are the Main Ingredients Used in Nari Jeevan Jyoti Capsule?

Nari Jeevan Jyoti Capsules contains a blend of natural extracts, which include Vatjata, Ashoka, Udambara, Lodhra, Punarnava, Harad, Bahera, Amla, Salai Guggal, Shatavar, Aloe Vera, Nirgundi and Khurasini Ajwain. This powerful combination has been carefully formulated to regulate menstruation, relieve pain, and promote women's overall health.

Now, let's understand how the ingredients of this herbal formulation make an effective healing impact on women's health.

Ashoka : It is known for stabilizing reproductive hormones, regulating irregularity in periods and stopping unwanted hair growth. 

Lodhra : It does help in lowering the male hormone and increasing the female reproductive hormone.

Salai Guggal: It is known for promoting weight loss, regulating thyroid hormones and stabilizing high cholesterols.

Shatavari: It helps in reducing cysts in the ovary and controlling hormonal imbalance in women. 

Aloe Vera: Its juice will reduce abdominal pain in the body during the menstrual cycle and pregnancy. It has anti-aging properties.
How does Nari Jeevan Jyoti support hormonal balance and overall well-being in women?

Naari Jeevan Jyoti is a combination of different herbs with rejuvenating and revitalizing properties.

The mixture of herbs like ashoka, lodhra, shatavari and salai guggal fulfill the expectations of women of all age groups.

Such herbs have been verified and used in the preparation of herbal capsules or syrup.

One would experience the following benefits:

Reduce cysts in the ovary.
Clears blockage from the fallopian tubes.
Reduces male hormones and controls unwanted hair growth.
Brings relief from toxins in the abdomen and thus reduces menstrual cramps.
Boost healthy weight loss and normal insulin levels.
Regulates periods.
Bring relief from mood swings and stress.
Not cause any side effects.
Are there any specific age groups or health conditions for which Nari Jeevan Jyoti is recommended?

This cent percent herbal medicine is recommended for women or females who have entered the menstrual period, suffering from hormonal imbalance, cramps and cysts in the ovary.

The herbs like ashoka, lodhra, salai guggal, punarnava and shatavari present in the capsule or syrup of this herbal medicine will lower the symptoms of infertility and stimulate the women to conceive naturally.

It is also prescribed for women in their pregnancy, premenopausal, menopausal and in any stage of depressive conditions.

So, Nari Jeevan Jyoti is advised to be used by teenagers, adults and elderly women.

In other words, it is not recommended for girls who have not 

entered the period of puberty.
Can Nari Jeevan Jyoti help with common women's health issues like menstrual discomfort and mood swings?

The presence of natural herbs like aloe vera, shatavari, punarnava and ashoka helps in reducing the unhealthy body fats, insulin resistance and abdominal pain in the body of women.

Regular dosage will surely improve the physical condition of women and bring relief from stress.

It will not cause any side effects.

And therefore, it is advised for women undergoing the problems of infertility, anxiety and stress.
Is Nari Jeevan Jyoti safe for long-term use, and are there any known side effects?

With or without the problem of infertility, any woman can take this natural supplement and experience the efficacy of the powerful herbs.

One will not experience any side effects using this product continuously.
What are the recommended dosage and usage instructions for Nari Jeevan Jyoti?

Method of dosage 

Appropriate dosages of taking these herbal capsules are using one capsule twice a day with lukewarm water.

You can also consult with your physician for your dosage.

Further, you must not take any addictive substances like alcohol, cigarettes and any form of drug. You should also stay away from consuming any processed food items.

Increasing the quantity of fiber in your diet in the form of juicy citrus fruits, watermelons, pineapples and wholegrains will regulate your hormone levels and menstrual cycle.

Further, yoga will also help in reducing fats and keeping the body in perfect shape.
How soon can one expect to see results after using Nari Jeevan Jyoti regularly?

Depending on the size of the cysts in the ovary, one can show the recovery with this bottle of herbal capsules. 

One can not expect the results instantly. But the faster you quit sedentary habits and eating bad food, the better your reproductive health. 

As a part of ayurvedic cure, it can show up with recovery from the hormonal imbalance and infertility issues within a month or more than this.

For best results, one should stay hydrated and eat fruits, vegetables and wholegrains.
 Is Nari Jeevan Jyoti suitable for pregnant or breastfeeding women?

It is better to take consent from the physician for any woman who is in the breastfeeding period. Otherwise, as per the Naari Jeevan Jyoti reviews given by different women:

It has enabled every woman to attain a smooth pregnancy.
Have regular periods.
Control excess bleeding.
Maintain balance in their body fats and help them attain perfect shape.
Boost confidence and help to complete daily work and go to the office and study without making them experience any menstrual cramps.
What is the Price of Nari Jeevan Jyoti?

Nari Jeevan Jyoti Capsules is priced at ₹4499 for one bottle, which contains 60 capsules.
Are there any Side Effects of Using Nari Jeevan Jyoti?

No, there are no side effects of using Nari Jeevan Jyoti as it is an Ayurvedic product and has been prepared after study and research. So far we have no registered or known side effects of its use. However, individual reactions may vary. It is advised to follow the recommended dosage, and in case of any unexpected reactions, discontinue use and consult a health care professional.
Is Nari Jeevan Jyoti Medicine Effective?

Nari Jeevan Jyoti medicine has demonstrated effectiveness for many women, with positive results in regulating menstrual cycles, reducing pain and enhancing women's well-being. Many women have experienced the benefits of this Ayurvedic product. However, individual responses may vary, and it is advisable to consult a health care professional for individual guidance based on your specific health needs. Overall, the product has received positive reviews for its effects on women's health and menstrual comfort and there are no side effects to its use.