Approved By "MINISTRY OF AYUSH"
(+ Free Consultation with Ayurvedacharya )
Regular price
₹ 3,100.00
Sale price
₹ 2,900.00
Unit price
per
6% OFF
Sold out
Addiction Killer powder is an Ayurvedic formulation to get rid of addiction to alcohol, smoking, nicotine and other harmful substances, helps with withdrawal symptoms and eliminates chances of relapse.
Approved by the Ministry of Ayush, Government of India, Addiction Killer is a blend of 11 natural herbs and extracts that helps the person afflicted with addiction to gain complete independence from nicotine, alcohol, and illicit drugs by reducing cravings to addictive substances, strengthening vital organs including heart, lungs and liver, removing toxins from body, improving mental function by reducing stress and anxiety.

Key Features

✔ Helps get rid of alcohol, nicotine and drug addiction.
✔ No withdrawal symptoms & no relapse.
✔ 100% Natural With No Side Effects
✔ Can Be Given Secretly to the Accident Person

DESCRIPTION

Product Form: Powder

Quantity: 3 bottles of 60 gm each

Dosage: Mix a spoonful in meal or juice, take twice a day

Side Effects- No 

Price- ₹ 3,100.00
BENEFITS

Reduction in Cravings
Liver and Lungs Support
No Withdrawal or Relapse
Strengthen in Vital Organs
Hydrated and Radiant Skin
Support Cardiovascular Health
Relief in Stress & Anxiety
Balances Mental Responses
Increases Appetite
Helps With Healthy Sleep
HOW TO USE

Take or give it twice in a day to the addicted person
Use only one tablespoon of the formulation at a time.
It can be given/taken by mixing into the water, juice or food but do keep in mind that it may change the color of water. 
If you want to give it secretly to the addicted person, mix it with juice or food.
For best results, use it for 3 months.
INGREDIENTS

VidariKand, Bach, Tulsi, Arjun, Awla, Gokhru, Giloy, Bhumi Awla, Ashwagandha, Shankhpushpi, and Brahmi
The results of Addiction Killer may vary from person to person, depending on their age, lifestyle, and condition.
View full details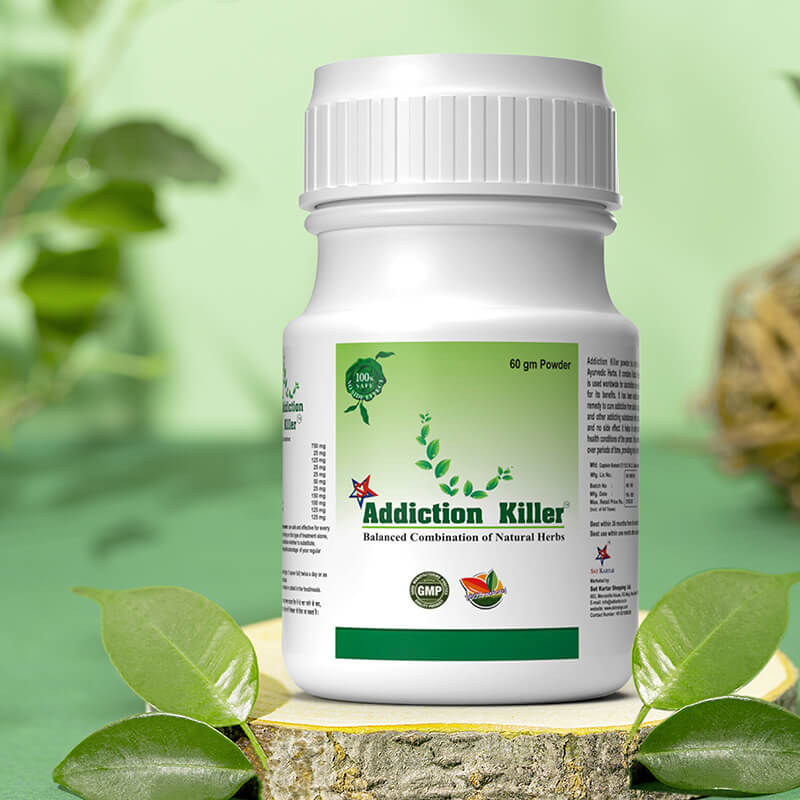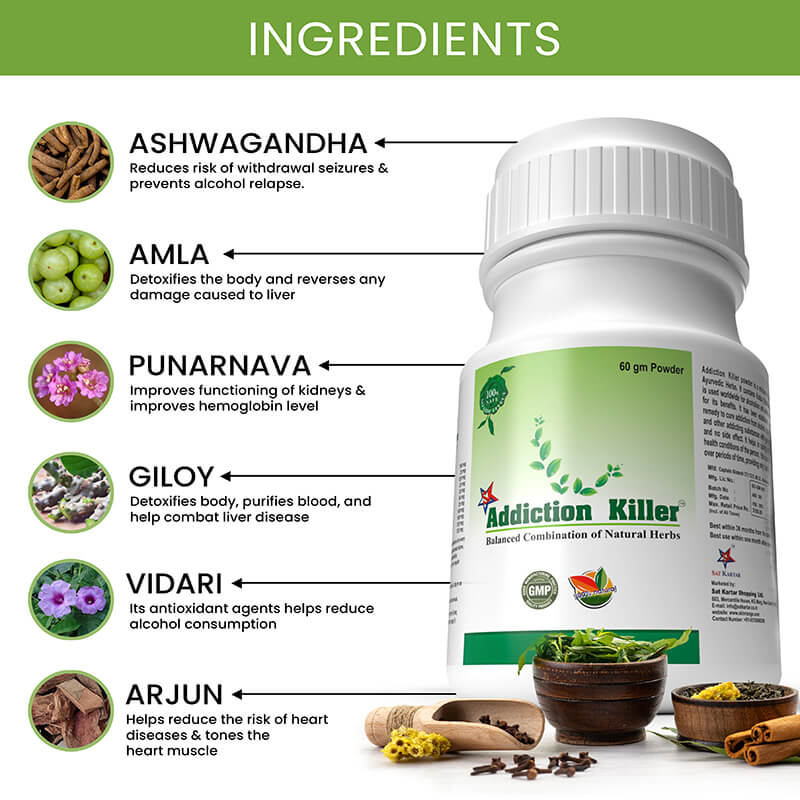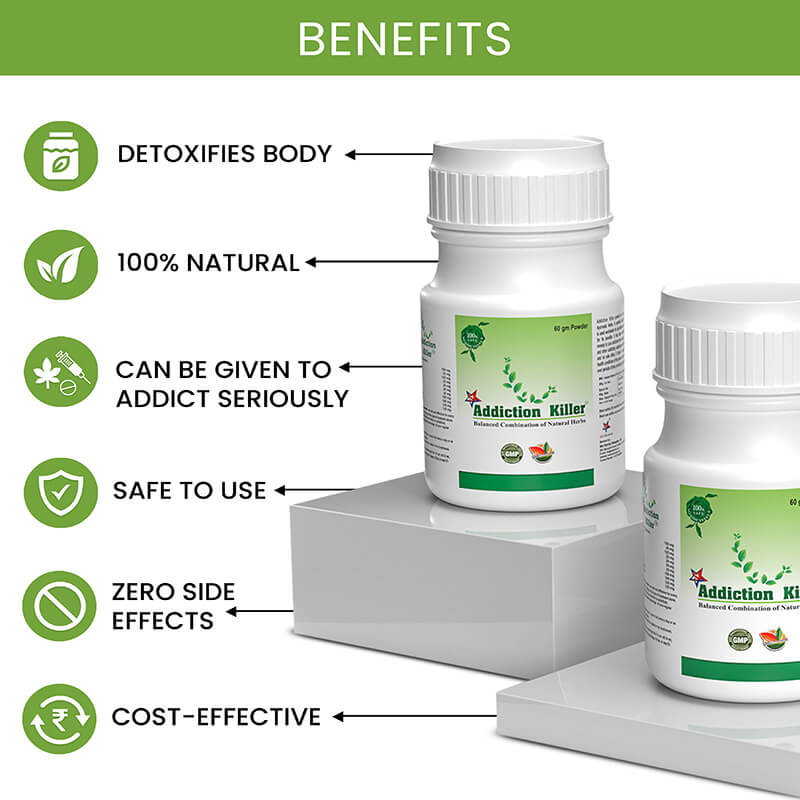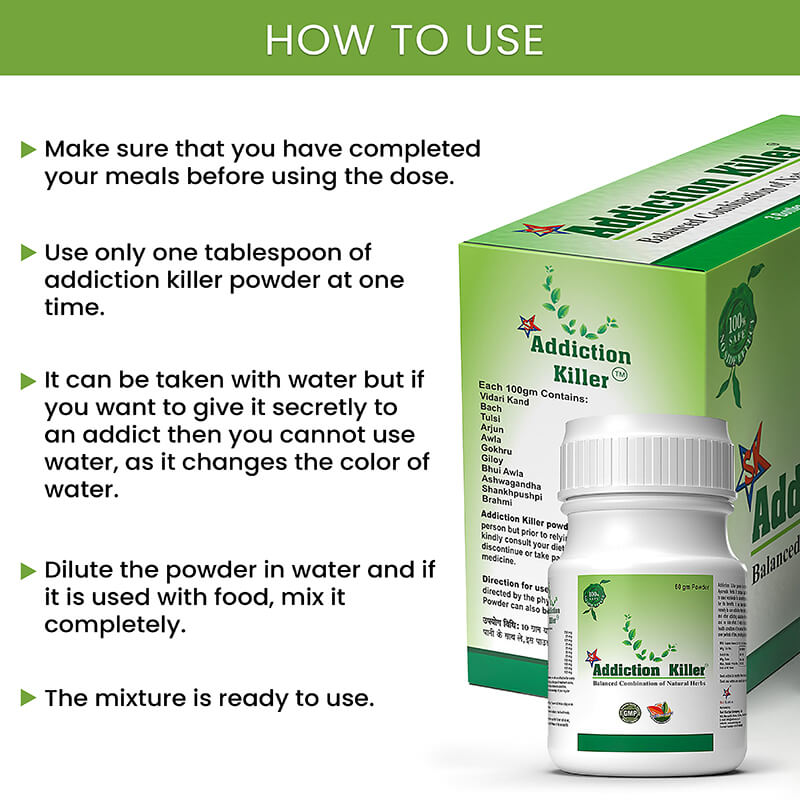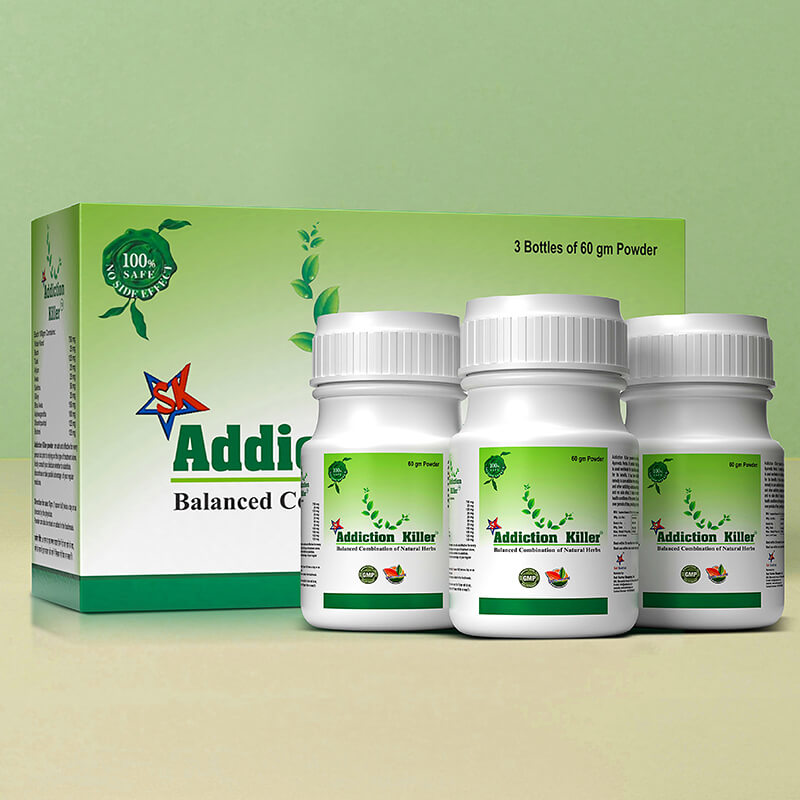 Addiction killer Medicine - No Smoking Medicine | 100% Safe and Natural.
Reviews
Watch people describe benefits of Addiction Killer.
Why SKinRange ?
HEALTH OUTCOMES

Ayurvedic solutions delivered thoughtfully

BESPOKE AYURVEDA

Programs crafted by Ayurvedacharayas

NATURAL INGREDIENTS

Carefully handpicked and sourced
FAQ'S
What is Addiction Killer Powder?

Addiction Killer Powder is a tested and safe Ayurvedic de-addiction medicine prepared from 10+ Ayurvedic herbs to deal with various addictions like alcohol, smoking, nicotine, tobacco drugs etc.

This Ayurvedic formulation is approved by the Ministry of AYUSH and has no proven sides Effects of using it. This herbal solution reduces cravings and withdrawal symptoms, helps individuals break free from addiction and supports liver, heart, kidney and overall health.
What Are the Benefits of Using Addiction Killer?

The health benefits and solutions associated with Addiction Killer are related to its herbal formulation and its predicted effects on stopping addiction:

Helpful in Overcoming Addiction: Helps in overcoming addiction to substances like drugs, nicotine and alcohol.
Substance Abuse: It aims to provide freedom from dependence on nicotine, alcohol and illicit drugs.
No Withdrawal or Relapse: Claims to help avoid withdrawal symptoms and prevent relapse during recovery.
Detoxification: Supports the body's natural detoxification process, helping to eliminate toxins from substance abuse.
Craving Reduction: Helps reduce cravings associated with opioids.
Liver Support: May contribute to improving liver health due to its herbal composition.
Heart health: Claims to potentially reduce the risk of heart disease associated with substance abuse.
Stress and Anxiety Relief: Contains herbs that are known for their calming properties, reducing stress and anxiety levels.
Balances Mental Reactions: It aims to promote balance in mental and psychological reactions.
How to Use Addiction Killer Medicine?

Addiction Killer is simple to use. For best results give it to the addicted person 1 teaspoon (10 grams) twice a day. You can mix it in water, but keep in mind that it may change the color of the water. If you are giving it secretly to an addict, then carefully mix the powder with juice or mix it well with their food.

And if the addicted person is suffering from any other serious health condition or is taking any prescription medication then he or she is advised to consult a doctor. Also keep in mind that it is an ayurvedic formulation, the medicine alone won't work and may require lifestyle changes like- Including healthy foods in your diet, and engaging in physical activities like regular exercise, yoga and medicine.
What Are the Side Effects of Addiction Killer Powder?

There are no side effects from using Addiction Killer as this powder is prepared using 100% natural herbs. This Ayurvedic formulation has been approved by the Ministry of AYUSH, Government of India.

But the effect of this medicine may depend on person-to-person. In some cases, consumption of this Addiction killer powder may cause nausea and vomiting. If you are taking other prescription medications for lifestyle diseases, you should consult your doctor to check for any side effects and allergic reactions.
What is the Price of Addiction Killer Powder?

Addiction Killer Powder is priced at Rs 2900 for a pack of 3 bottles, each containing 60 grams of powder.
What are the Uses of Addiction Killer?

Addiction killer powder can be used to help your loved ones to get off addiction to harmful substances such as alcohol, cigarette, nicotine, tobacco, gutkha, marijuana, smack, heroin, cocaine, doda poppy and other harmful substances that affect and damage our vital organs like lungs, kindenies, heart and liver which if not treated on time can become fatal.
What Are the Main Ingredients in Addiction Killer Powder?

Addiction killer powder contains time tested 11 ayurvedic herbs which help people get rid of addiction to harmful substances like alcohol and smoking. This formulation is blend of

Vidari Kand
Bach
Tulsi
Arjun
Awla
Gokhru
Giloy
Bhumi Awla
Ashwagandha
Shankhpushpi
Brahmi

Is Addiction Killer Suitable for Everyone?

Since it is an Ayurvedic addiction medicine, it is suitable for people addicted to any harmful substance like alcohol, cigarette, nicotine, gutkha, illicit drugs. But pregnant or lactating women, children and individuals with medical conditions are advised to consult an Ayurvedic practitioner or physician before giving it.
How Long Does It Take to See Results With Addiction Killer?

Usually this ayurvedic de addiction medicine works within 3-5 months to help you overcome addiction, cope with withdrawal symptoms and avoid relapse. Results may depend on factors such as severity of addiction and individual response. Some people may see results in a few weeks while others may experience it over months.

It is recommended to use it for at least 3 months to get best results. It is suggested to follow the recommended dosage and make some lifestyle changes to improve the effectiveness of this product.
Choosing a selection results in a full page refresh.
Opens in a new window.