Regular price
₹ 11,000.00
Regular price
Sale price
₹ 11,000.00
Unit price
per
Sale
Sold out
Keeda Jadi is a medicinal herb that looks like a herb from one end and a caterpillar from the other. This rare medicinal mushroom, employed in traditional medicine for over a thousand years, boosts stamina, energy, and immunity for athletes. It's renowned for its anti-aging and recovery properties, attributed to its anti-inflammatory and potential anticancer effects.
BENEFITS

Boosts Stamina & Athletic Performance

Anti-aging

Anti-Cancer

Intimate Performance Booster

Boosts Energy & Endurance

Amazing for Heart Health

Anti Diabetic

Boosts Immunity

Recovery Booster

Improves Your Lungs Life
HOW TO USE

Take 1 g (Approx 5-7 strands)

Add it to 150ml of Hot/Boiling Water.

Let it Stand for 3-4 minutes.

Stir and have a sip of the drink.

Give a break of 1 day after taking this regularly for 5 days.
View full details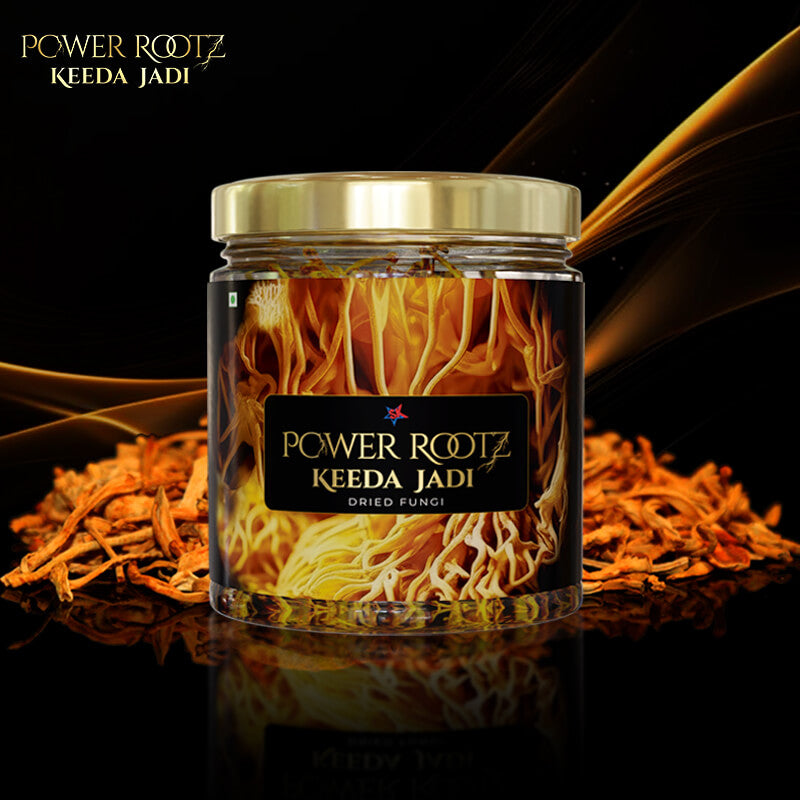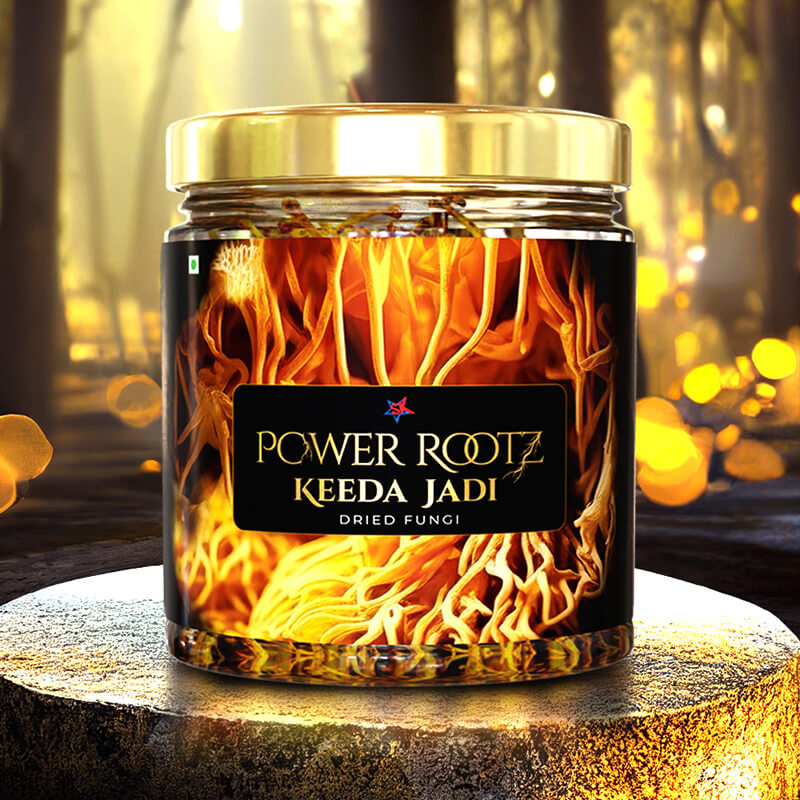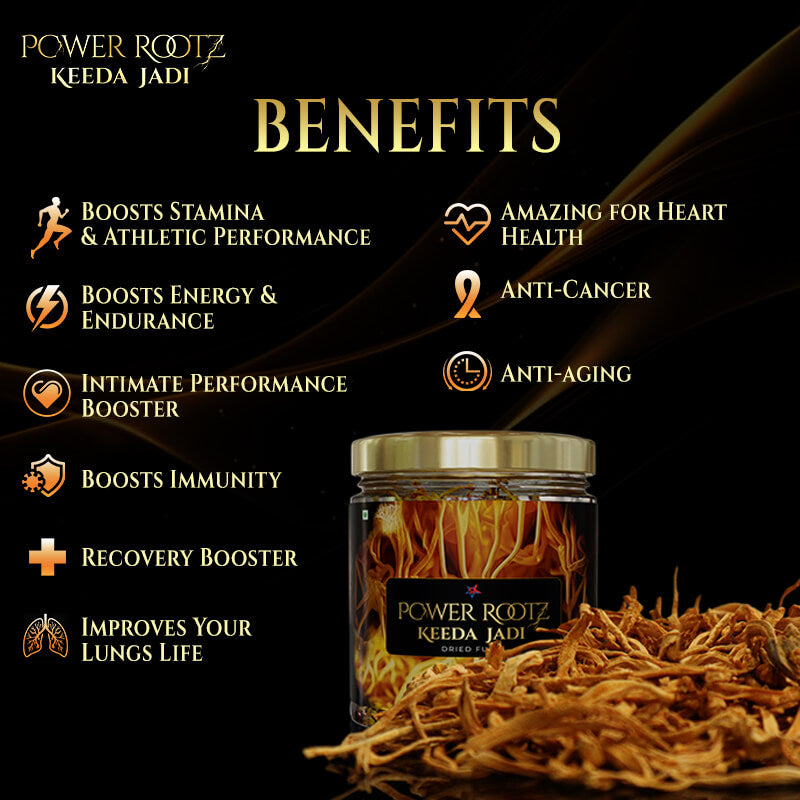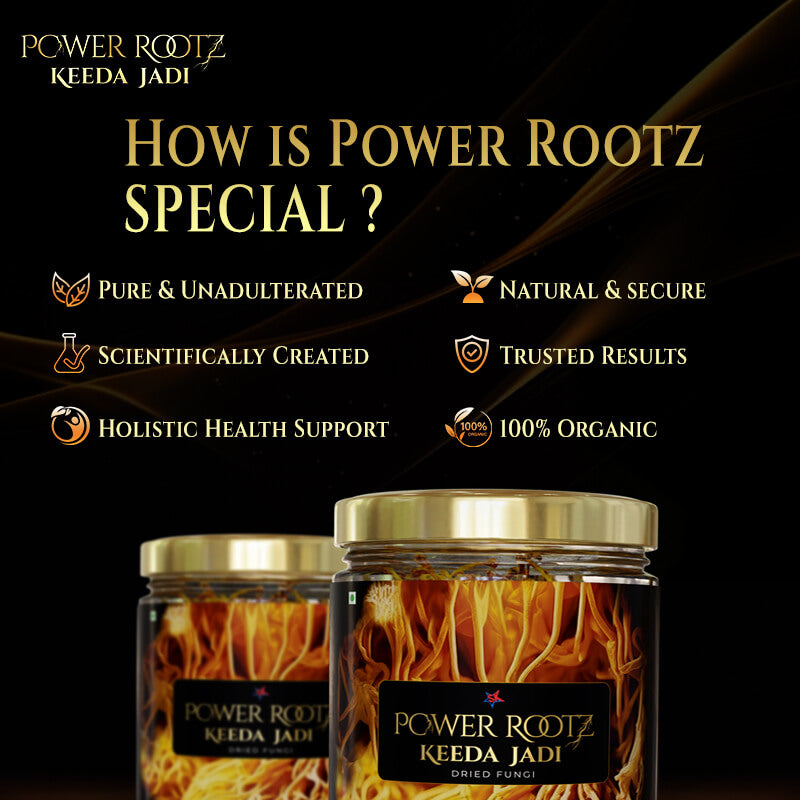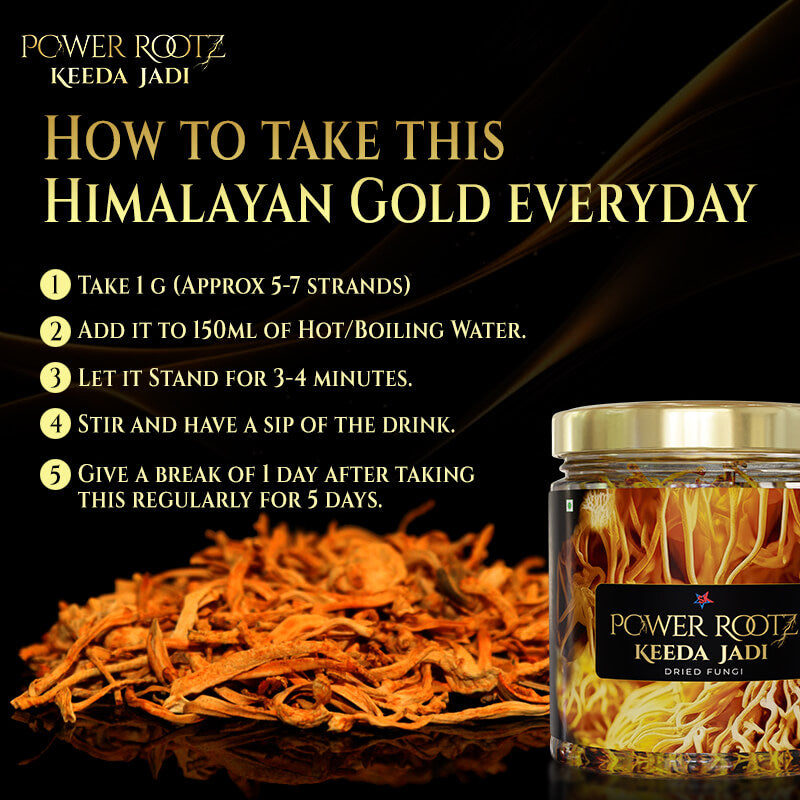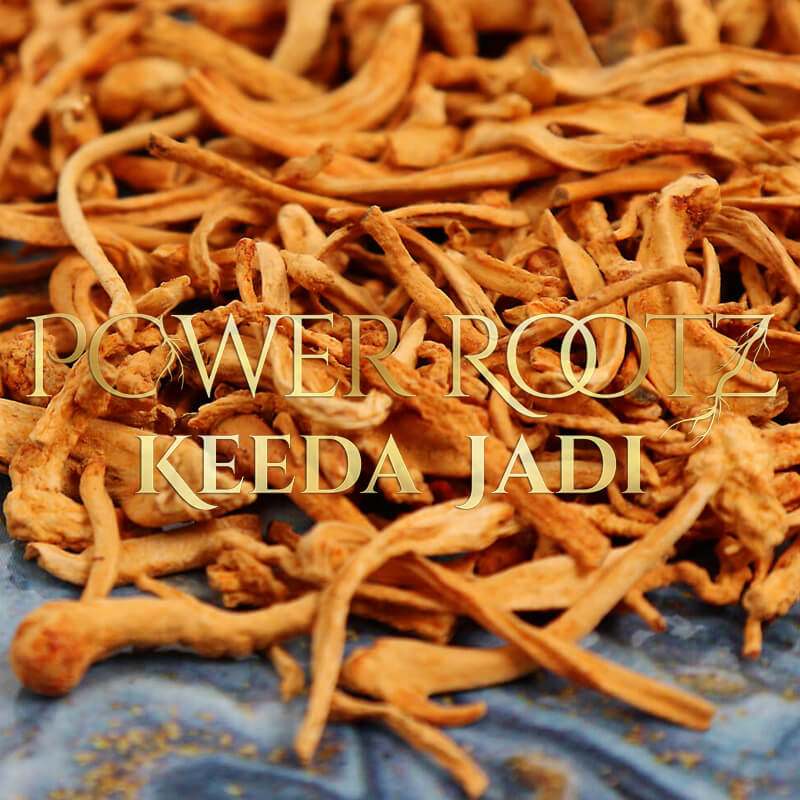 Power Rootz - Your Power Your Trust
Unlock the Mystical Strength of Keeda Jadi
If you are an athlete, you'll be better at your game. If you aren't one, you'll be better at games at night & day.
A POWERFUL PERFORMANCE ENHANCER
The only Performance Enhancer that gives you 10* Energy Boost today and for the time to come.
Boosts physical strength.
Endurance.
Energy levels.
Performance.
MADE FROM CORDYCEPS SINENSIS
Enhances muscle growth.
Improves recovery time so you can go longer.
Increases stamina and endurance.
Gives you the power to perform your best in sports and daily life.
Rejuvenates fading strength, stamina, and immunity associated with aging.
Why SKinRange ?
HEALTH OUTCOMES

Ayurvedic solutions delivered thoughtfully

BESPOKE AYURVEDA

Programs crafted by Ayurvedacharayas

NATURAL INGREDIENTS

Carefully handpicked and sourced
FAQ's
What is Power Rootz Keeda Jadi?

Power Rootz Keeda Jadi is a natural Ayurvedic supplement made from the rare and medicinal fungus Keeda Jadi also known as Kidajadi, yarsagumba, caterpillar fungus, cordyceps militaris, and Himalayan Viagra.

This unique herb, which resembles both a caterpillar and a weed, is known for its traditional use in increasing stamina, energy and immunity. It offers potential benefits such as boosting athletic performance, anti-aging properties, supporting heart health, and aiding recovery. This supplement is formulated without harmful chemicals or additives and is suitable for vegetarians and vegans.
What are the Benefits of Using Power Rootz Keeda Jadi?

Keeda Jadi or Himalayan Viagra, is believed to provide several health benefits based on traditional medical practices. Some of the benefits reported include:

Enhanced Stamina and Athletic Performance: kidajadi increases stamina and aid athletic performance, promoting stamina during physical activities.
Anti-Aging Properties: Known for its ability to fight signs of aging due to its antioxidant content, which helps maintain youthful vitality.
Anti-Cancer: Studies show that Keeda Jadi contains compounds that exhibit anti-cancer properties, although further research regarding anti-cancer is ongoing..
Boosts Energy and Stamina: Himalayan Viagra boosts energy levels and supports stamina, fights fatigue and increases overall vitality.
Support Heart Health: Believed to have a positive effect on cardiovascular function, contributing to heart health and overall well-being.
Anti-diabetic Properties: Some research suggests it may help manage blood sugar levels, potentially aiding individuals dealing with diabetes.
Immune System Support: Known to boost the immune system, aid in fending off infections, and strengthen overall immunity.
Recovery Booster: Aids recovery after exercise and may contribute to faster recovery from injuries.
Improves Respiratory Health: Traditionally believed to enhance lung function and promote better respiratory health.
Enhances Sexual Performance: Recognized for its ability to support and enhance sexual performance, aiding intimacy.
Promotes Fertility: Traditional uses suggest it may have positive effects on fertility.
Anti-inflammatory Effects: It has potential anti-inflammatory properties, which helps reduce inflammation within the body.
How does Power Rootz Keeda Jadi work ?

Power Rootz Keeda Jadi is an Ayurvedic supplement that functions by regenerating dead cells, enhancing immunity, stamina, and anti-inflammatory abilities, aiding in treating diseases. These natural herbs promote holistic well-being by addressing multiple health concerns, supporting natural healing, and improving energy, endurance, and athletic performance.
How to use Power Rootz Keeda Jadi?

This is very easy to use the keeda jadi or Caterpillar fungus

Take 1 gram of Keeda Jadi(about 5-7 fibers).

Mix it in 150 ml hot or boiling water.

Let it remain in water for 3-4 minutes.

-After this, stir the mixture well.

Take a sip of the drink.

Take it regularly for 5 days, then take a break for 1 day.

Use it only once a day and keep maintaining the time table.
Is there any side effects associated with this ?

No, there are no side effects from consuming Keeda Jadi. Power Rootz Keeda Jadi is formulated using organic keeda jadi and is free from harmful chemicals or additives. Thousands of users have reported positive results without adverse effects.

And in general everyone's body has unique and different sensitivities, so it can provide many benefits, while some may experience minor problems like allergic reactions, gastrointestinal disturbances, interactions with medications. And if you suffer from any disease or have prescription medication, please consult your doctor.
How long does it take to see results with Power Rootz Keeda Jadi ?

The timeline for experiencing results may vary among individuals, yet many users report noticeable improvements with consistent use. To optimize outcomes, it is advised to take Power Rootz Keeda Jari as directed and uphold a healthy lifestyle, comprising balanced nutrition and regular exercise.
Can I take Power Rootz Keeda Jadi alongside other medications or supplements?

Power Rootz Keeda Jadi is a natural supplement comprising solely organic keeda jadi. However, it is always advisable to consult your healthcare provider before combining it with other medications or supplements. They can offer personaliz
 Is Power Rootz Keeda Jadi suitable for vegetarians and vegans?

Yes, Power Rootz Keeda Jadi is suitable for both vegetarians and vegans. The formulation consists solely of keeda jadi herb and does not contain any animal-derived ingredients at any production stage. It aligns with dietary preferences and is a suitable choice for individuals following vegetarian or vegan lifestyles.
What is the price for Power Rootz Keeda Jadi?

The Power Rootz Keeda Jadi Price is ₹ 11,000.00, For 25 grams.
How much is kidajadi per kg?

The Current market price of raw kidajadi per KG is ₹15 Lakhs to ₹30 Lakh.
Why is cordyceps fungus (kidajadi) so expensive?

Famous for its medicinal properties, the Cordyceps fungus is a unique discovery that mainly thrives in specific areas like the Tibetan Plateau in China. Its scarcity increases its market value to a great extent, which is the reason for its high price.

However, beyond rarity, the challenges of harvesting this fungus increase its value. Harvesting Cordyceps is a difficult task, taking up to six years to mature. This complex and time-consuming process increases production costs, contributing to its high price. It is in growing demand in traditional Chinese medicine, where it is believed to provide diverse health benefits. This strong and consistent demand increases the already high value of Cordyceps in the market.