Regular price
₹ 5,000.00
Sale price
₹ 2,500.00
Unit price
per
50% OFF
Sold out
(Cash on Delivery is also available)
Nasha Free is an Ayurvedic Liquid formula made up of several natural ingredients. It helps in suppress the cravings of addiction detoxifies the body prevents relapse. Nasha Free is 100% natural and clinically proven product.
DESCRIPTION

Nasha Free is an Herbal & Ayurvedic Liquid Drops to free a person from their Addiction. This Ayurvedic Liquid formula is made up of several natural ingredients to help an addict in many ways including suppressing the cravings of addiction detoxifies the body prevents relapse.

This product is 100% natural and clinically proven. It can be mixed with water, juice, tea, and other beverages. The product is colorless and does not induce any side effects. It can easily be given secretly to addicts.

Name: Nasha Free


Product Form: Liquid Drops

Quantity: Three bottles in one package

Dosage: Twice in a day and 10-15 drops in one time
BENEFITS

Advanced and effective formula

Purifies and detoxifies blood

Suppress the cravings of addiction

100% Ayurvedic product

Zero side effects

Easy to provide to an addict

Cost-effective product

Prevents relapse
HOW TO USE

10-15 drops in one time and twice in a day (After meal)

It can be used by men or women of any age.

Nasha Free mix form is ready to use.

Nasha Free is a colorless, herbal & Ayurvedic Liquid Drops that can easily be given secretly to addicts. It can be mixed with water, juice, tea and other beverages.
INGREDIENTS

It is a mixture of 20 precious ayurvedic herbs. Tejpatra, Punarnava, Bahera
The results of Nasha Free may vary from person to person, depending on their age, lifestyle and condition.
View full details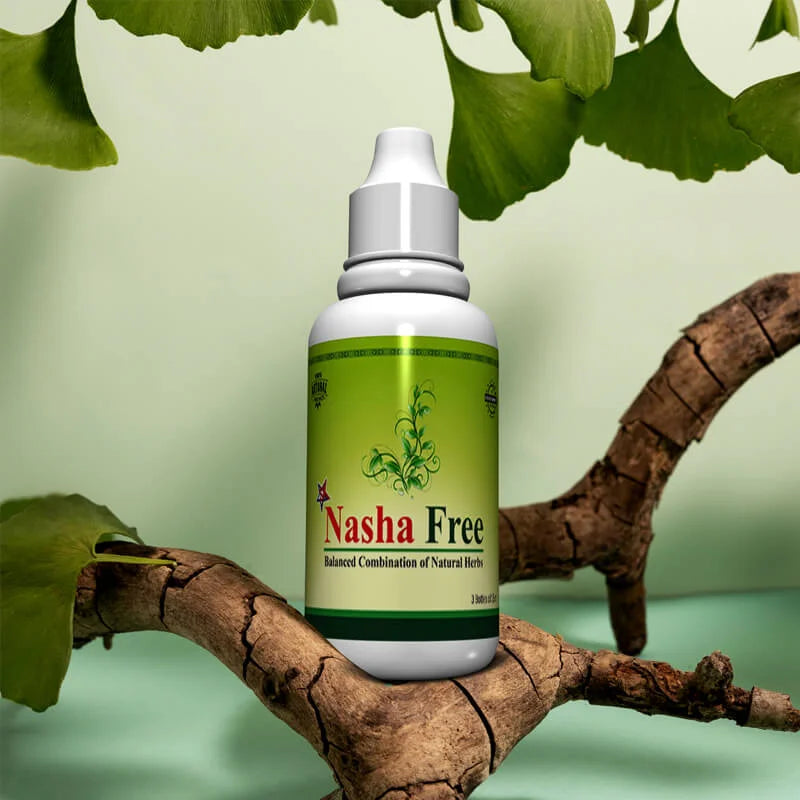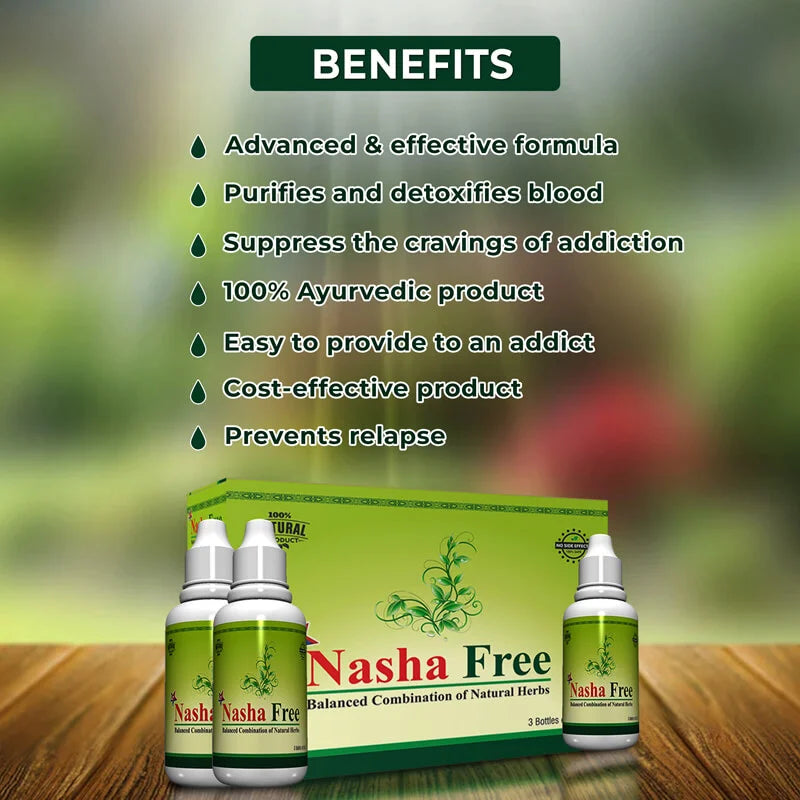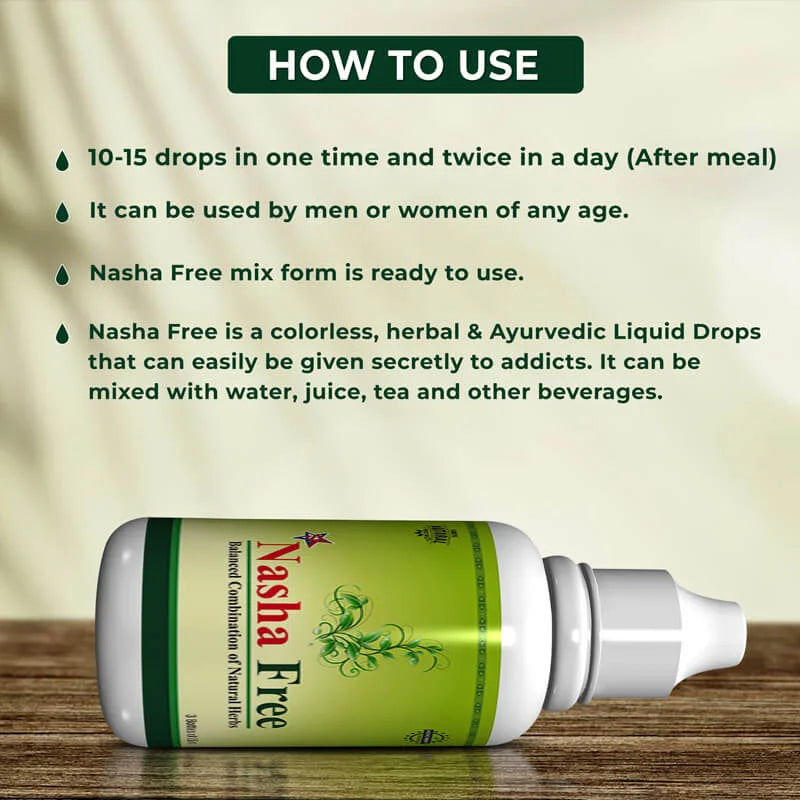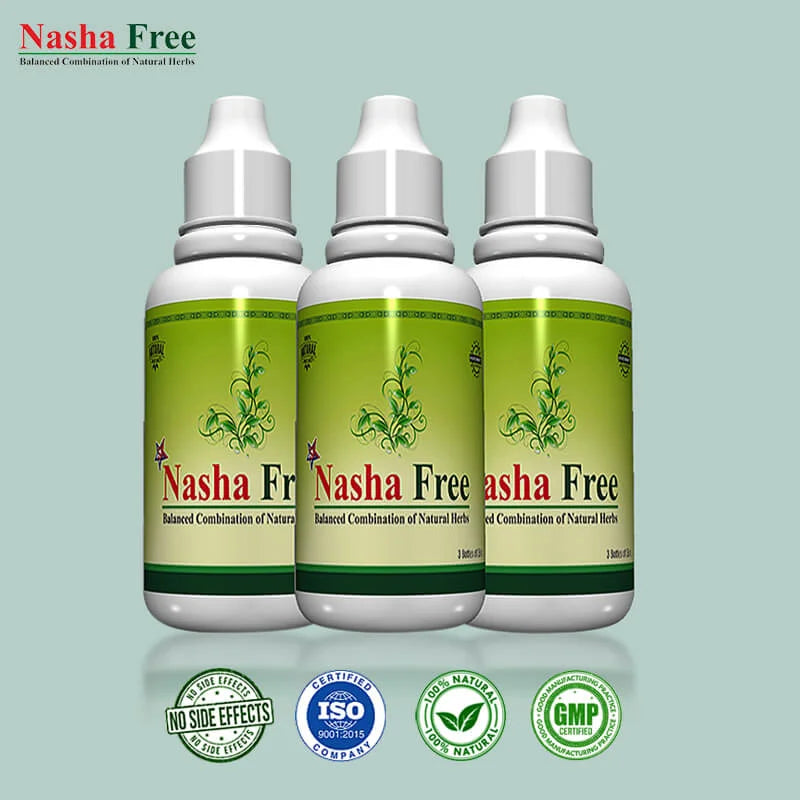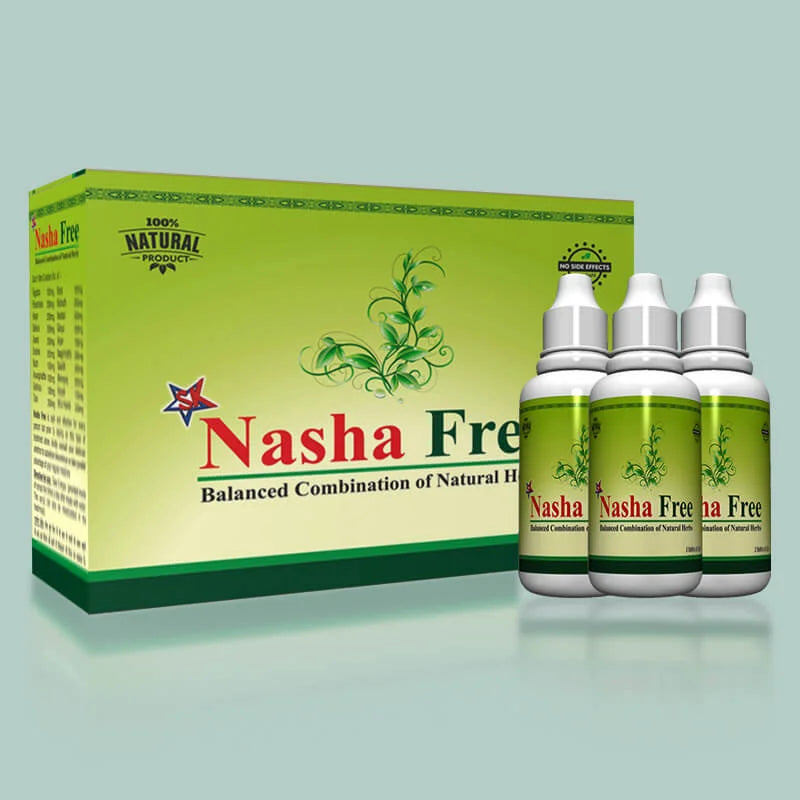 Why SKinRange ?
HEALTH OUTCOMES

Ayurvedic solutions delivered thoughtfully

BESPOKE AYURVEDA

Programs crafted by Ayurvedacharayas

REAL ASSISTANCE

Ayurvedic Health Experts

REAL ASSISTANCE

Ayurvedic Health Experts
FAQ's
What is "Nasha Free" and what kind of product is it?

It is an advanced ayurvedic formulation in liquid form to help any addict overcome their addictive tendencies and lead a healthy and stress-free life. 
Can you describe the main ingredients used in the "Nasha Free" herbal product?

Major ingredients used in this ayurvedic formulation are:

Tejpatra: It helps in overcoming the problem of depression and relieving stress. It revitalizes the brain nerves and makes the person active. It also improves taste buds and digestion. It damages the growth of cancer cells and stimulates the growth of beta cells. It also clears the air passage in the respiratory system.

Baheda: It has the potency to remove the toxins that cause addiction triggers. It kills worms in the intestine and regulates the bowel system. It does have anti-aging properties and improves the immunity level in the body. 

Punarnava: It strengthens the neuromuscular system and brain nerves. It protects from respiratory diseases. It increases the insulin levels and cleanses the gastrointestinal tract.
How does "Nasha Free" claim to help individuals overcome addiction?

The success of ayurvedic medicine has been scientifically validated on 1000 addicts and therefore approved by the Ministry of Ayush. It can be easily administered to any addict secretly as it is in colorless form. It can be easily added to tea, water or any form of beverage. There will be no health complications apart from improvement in the health of the addict in the following ways :

It will revitalize the brain nerves and arouse the sense of guilt and negativity against the addictive substances.

It  will stop triggers and cravings.

It will cleanse the digestive system.

It will regulate bowel movement.

It will rejuvenate the sensory nerves existing in the nasal passage. 

It improves the taste buds.

It will balance the doshas.
Are there any scientific studies or research supporting the effectiveness of "Nasha Free"?

Each of the herbs used in the formulation of Nasha Free ayurvedic liquid has been tested for its purity in clinical laboratories. Its performance has been verified and therefore it has gained international certification like ISO. It is also GMP-certified and also approved by the Ministry of Ayush.

And therefore it is safe to use with no further complications found with Nasha Free.
Is "Nasha Free" approved or certified by any regulatory authorities for its claims and safety?

It has international certifications and includes GMP, ISO and Organic Ingredients. It has been checked and verified as a 100% pure Ayurvedic product. There is no synthetic ingredient mixed. It can be easily used with any food and beverages secretly for the recovery process of any addict who refuses to discard alcohol or any other addictive substance.

With the dosage of 10 to 15 drops of this ayurvedic medicine daily, it makes the addict physically and mentally stronger to discard any addictive substance and lead a healthy life. 

And so, it has been approved by the Ministry of Ayush with no side effects found. 
What are the recommended usage instructions for the "Nasha Free" herbal product?

It is nearly more than 2 lakh addicts have used this product regularly and have not faced any difficulty or reactions. 

It is purely safe as its formulation is 100% ayurvedic. It will reverse the addiction triggers, detoxify the body and stimulate the person towards leading an addiction-free life. There will be no relapse of the problem.
How long does it typically take to see results when using the "Nasha Free" herbal product?

You will be able to notice the steady recovery from addiction within a week. However, it again depends on every individual's age, lifestyle condition and environmental situation.

With the regular dosage, you will find that the addict is distancing from addictive substances. He or she will surely show interest in eating nutritious and tasty foods and adopt other positive changes. It is because this ayurvedic medicine detoxifies the entire metabolism and balances doshas. There is no side effect reported. 
Is "Nasha Free" suitable for all ages, or are there specific age restrictions?

Irrespective of any age or gender, everyone can use this product. There is no provision because it is purely herbal and Ayurvedic. There have not been any health complications found.

After all, it is known for removing toxins from the body and boosting the immune system.

There are no side effects seen. 
Can you provide any customer testimonials or reviews from individuals who have used "Nasha Free" to overcome addiction?

If you go to the link of

https://skinrange.com/products/nasha-free

then you will come across different testimonials shared by the users for this specific product.

You can also find the opinions of different customers regarding the Nasha Free price, usage and its benefits in the online marketplace of Amazon.