Regular price
Rs. 1,299.00
Regular price
Rs. 1,999.00
Sale price
Rs. 1,299.00
Unit price
per
35% OFF
Sold out
(Cash on Delivery is also available)
Powerful and Herbal formulation using all natural ingredients to develop strong immunity against cough, cold, congestion, flu and such viral infections.
DESCRIPTION

Formulation Recommended by Ministry of Ayush Govt. of India
A comprehensive formula enriched with scientifically validated natural botanical Herbs
SKinRange Ayush Kwath is made from naturally derived ingredients and therefore has no side effects
Ingredients: Tulsi, Dalchini, Sunthi, Krishna Marich
Contributes to the maintenance of Enhanced Immunity & Restore Quality of Life.
BENEFITS

Boost your immunity naturally

Revitalize your body & fight fatigue

Stress Relief

Prevent recurring infections

Fight weakness during rehabilitation
INGREDIENTS

Tulsi (Holy Basil): Best cough-nahak dissolves mucus of the chest and reliefs cold.

Dalchini (Cinnamon): Eradicate cough from the throat & melts the cough because of the ushna Virya property.

Adrak (Ginger): Appetizer as well as immunes the body from viral infection, Gastric problems & dissolves mucus in the chest.

Kali Mirch (Black pepper): Its Tikshna quality helps to remove cough mucus from the throat.
View full details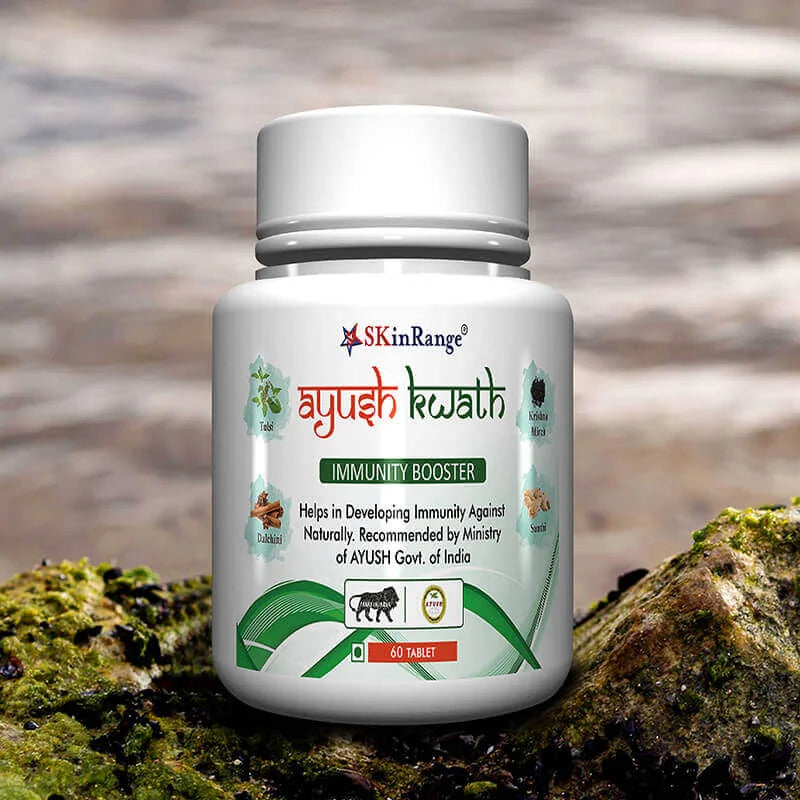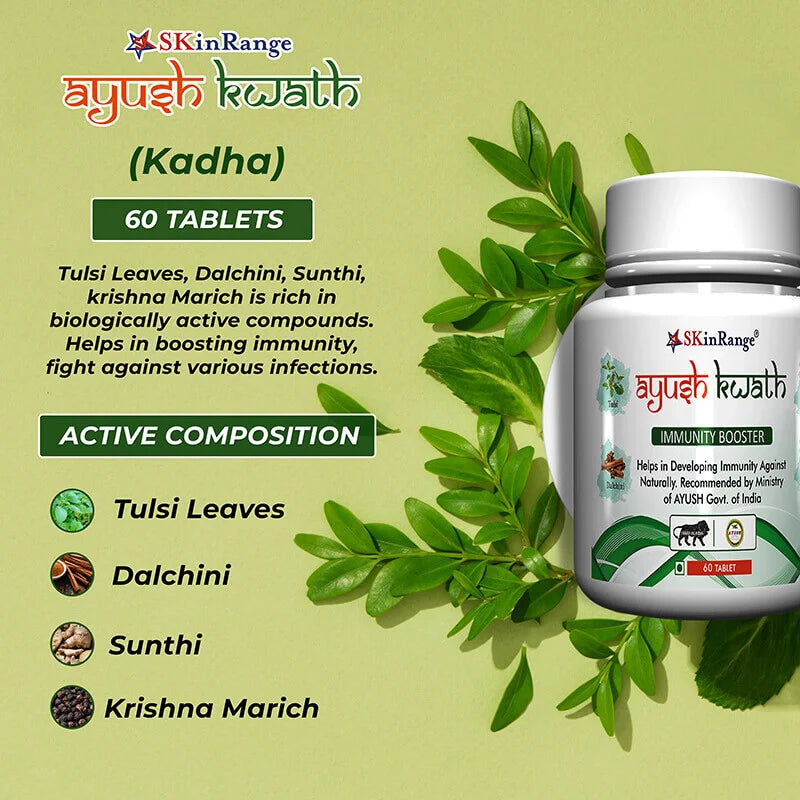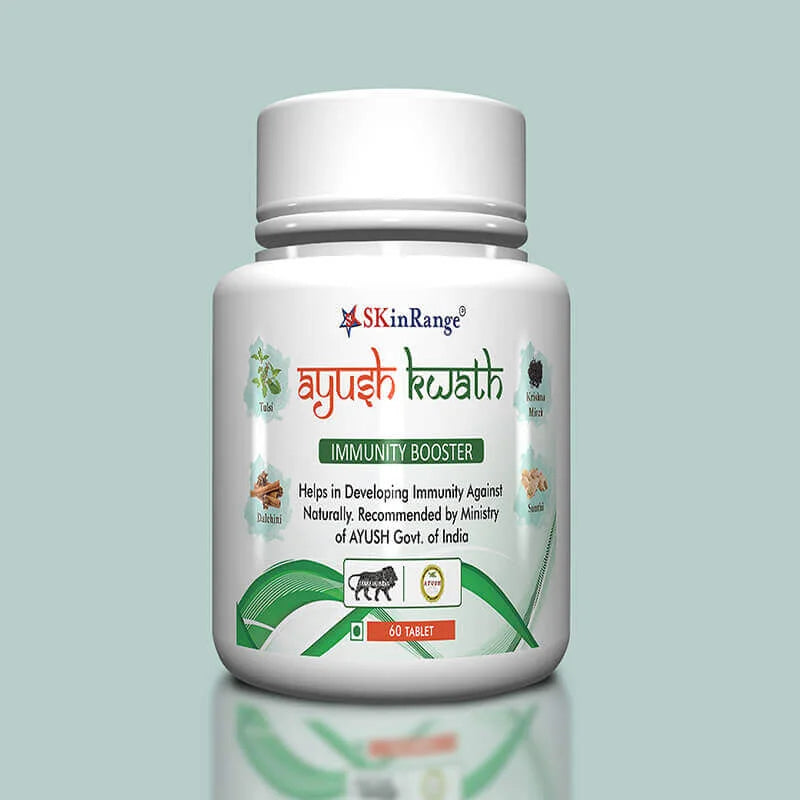 Why SKinRange ?
HEALTH OUTCOMES

Ayurvedic solutions delivered thoughtfully

BESPOKE AYURVEDA

Programs crafted by Ayurvedacharayas

NATURAL INGREDIENTS

Carefully handpicked and sourced
FAQ'S
What is the Ayush Kwath Tablet and how is it commonly used?

Ayush Kwath tablet is made from the combination of Dalchini (cinnamon), Krishna Marich (black pepper), saunth (dried ginger) and Tulsi (holy basil). 

Add Ayush kwath tab to the boiling water and drink it as you drink tea.

You will be able to get following benefits with this tablet like:

100% herbal with antioxidant and anti-inflammatory properties.

Relief from infection spread by bacteria, virus or any microscopic organism.

Reducing stress level

Posing as defence against any type of infection.

Boosting immunity.

No side effects found.

You will be able to find these 60 tablets packed in the bottle on SKinRange online at a discounted price. 

Method of dosage of Ayush Kwath tablet: It is recommended that you take it with a half an hour gap post meal or before meal. 
How does Ayush Kwath Tablet contribute to boosting immunity?

Preparing herbal tea with the help of this tablet without adding any milk and sugar will help in following ways:

Controlling the spread of infections in the body.

Reducing obesity.

Maintaining rising sugar at optimum level in the body.

Cleansing the respiratory tract.

Not causing any side effects.

 
What are the key ingredients present in Ayush Kwath Tablet and what are their benefits?

Major ingredients found in the Ayush Kwath tablet are black pepper or Krishna Marich, cinnamon or Dalchini, dried ginger or saunth and holy basil or Tulsi.

Each of these herbal ingredients or spices have amazing rejuvenating, revitalizing and immunity boosting properties.

Let's study their benefits:

1.Black pepper (Krishna Marich)

It clears the toxins from the stomach and gut. It brings relief from infection in the throat. It improves the level of hemoglobin and prevents the growth of cancer cells. 

2.Cinnamon (Dalchini)

It serves as a defense mechanism against bacteria, virus and fungal infections. It cleanses the respiratory tract and controls stomach cramps.  It forms a protective cover against the spread of cancer and reduces sugar level. 

3. Dried ginger (Saunth)

It possesses anti-inflammatory properties and lowers the risk of spreading infection. It controls the rise of different types of joint pain and brings relief from sore throat.

4.Holy basil (Tulsi)

It does help in fighting any type of infection arising in the throat and stomach with its antimicrobial and anti-inflammatory properties. It helps in improving the vision of the eyes.
What role does Ayush Kwath Tablet play in traditional Ayurveda medicine practices?

The formulation of this tablet is ancient Ayurveda and made from cinnamon, black pepper, holy basil and dried ginger. Drinking it in the form of herbal tea will eliminate different chronic problems from the root.  

Key benefits using this herbal tea are:

Reduce headache.

Improve the heart condition by clearing the existing blockage in the blood vessels.

Maintaining cholesterol and blood pressure at normal level.

Increasing the level of oxygen and breathing conditions.

Cleansing the respiratory tract.

Reducing constipation.

Bringing relief from joint pain.

Fighting all types of infections.

Balancing all the Doshas.

Not causing side effects.

Drink it any time of the day. You will definitely get a lot of energy and be happy and stress free!
Can you elaborate on the recommended dosage of Ayush Kwath Tablet for various age groups?

This Ayurveda tablet is applicable for people of all ages. It will not harm your child or you as an adult as it is not enriched with caffeine.

In fact, it will not make anyone addictive unlike tea or coffee. You can enjoy the drink with or without adding jaggery and lemon for better taste and sweetness.

Major benefits

Improve your digestion.

Reverse sore throat problem.

Reduce bronchial problems and respiratory disorders.

Boost your immune system.

No side effects will be seen. 

For children: It is advisable to have it at least once a day by adding it in lukewarm water.

For adults: One can have twice a day or can maximum go up to using thrice a day.

But make sure that you or your children drink herbal tea in the half an hour gap after the meal.
 Are there any potential side effects associated with the consumption of Ayush Kwath Tablet?

No information related to side effects using Ayush Kwath has been found.  It improves your digestion, clears the respiratory tract and is helpful in healing the sore throat and sinus problem. 

You can add one Ayush Kwath tablet to the lukewarm water and drink it once or twice. However, you can consult your dietitian or doctor if you are using any other medication.
How does Ayush Kwath Tablet differ from other immunity-boosting supplements in the market?

There is no dearth of chemical enriched immunity boosting supplements. But compared with all these supplements, using this 100% herbal tablet, you will:

 Find relief from any infection.

Get better by overcoming joint pain, sore throat, irritable bowel syndrome and with reduction in blood sugar.

Have a healthy heart and excellent respiratory system.

Long healthy life with no further complaints of any chronic disease.

There is a possibility of side effects rising due to other chemical enriched energy drinks. You may suffer from vomiting, nausea, diarrhea, etc. However, no side effects will be seen using herbal tea.
Can Ayush Kwath Tablet be taken alongside other medications or supplements?

There has not been any problem reported by using such 100% herbal tablets made from Dalchini, saunth, Tulsi and Kali Mirch. It is completely safe using any other medication or supplement. 

Rather, it will boost your energy levels, regulate rising sugar levels and blood pressure and regulate bowel movement.

However, you can take recommendations from your doctor if you are on medication.
What scientific evidence or studies support the effectiveness of Ayush Kwath Tablet? 

Ingredients used in the formulation of Ayush Kwath tablet are scientifically tested and proven 100% pure cinnamon, holy basil, dried ginger and black pepper

Hence, the Ministry of Ayush, India with the help of scientific validation approves the long term effectiveness of this 100% herbal tablet. 

More than lakhs of patients are right now the satisfied customers.
Are there any specific health conditions or precautions that individuals should consider before using Ayush Kwath Tablet?

a. There are not any hard core rules to be followed while using cent pure and natural tablets made from ginger, black pepper, cinnamon and holy basil.

b.You can take it before or after the meal. But make sure to maintain half an hour gap.

c. Add the tablet into lukewarm water and enjoy sipping it. There will be no side effects.